Dermafina aesthetic dermatology clinic provides microneedling and radiofrequency energy skincare treatments in Montreal and the surrounding areas. We welcome you to explore the benefits of RF micro needling whether it's your first time or not.
What is Morpheus8: Explainer
Morpheus8 is a cutting-edge microneedling therapy designed to outperform its predecessors. Dermal adipose tissue is remodeled by Morpheus8 stimulation.
It combines microneedling and radiofrequency (RF) energy to reconstruct and contour the face and tighten skin all over the body. To rebuild and shape, this technique penetrates deep into the skin and fat. Fine lines, wrinkles, acne scars, stretch marks, and uneven skin texture may be treated with it.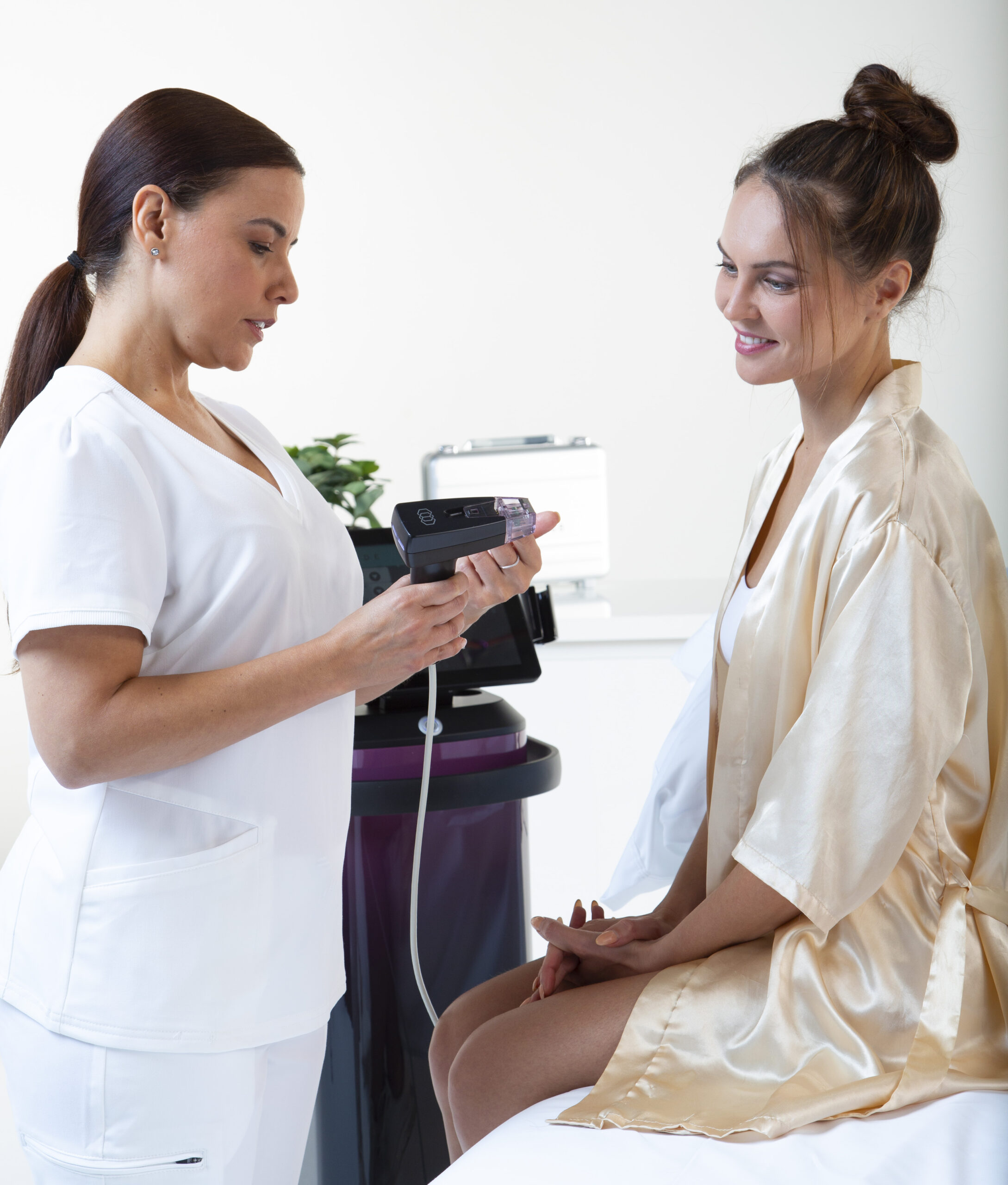 Microneedling creates micro-injuries in the skin, which activates the body's natural healing process and boosts collagen and elastin production, which keep skin tight and elastic. The deeper layers of the skin are heated by RF radiation, which stimulates collagen and elastin formation and tightens the skin.
Treatments may be personalized using the Morpheus8 device by adjusting needle depth and RF energy. It's minimally invasive and usually causes just temporary redness and swelling.
Morpheus8 Mirco-Needling Treatment Process: 4 Easy Steps
Apply Topical Numbing Cream
Dermatologist uses applicator on skin to stimulate dermis
What are the Benefits of Morpheus8?
Penetrates Deeper Into the Skin
Is Safer and More Effective
Offers Consistent Results
Can Be Used on Almost Every Area of the Body
What Can Morpheus8 Help With?
Morpheus8 can treat a wide range of skin concerns, the most popular uses are to treat:
Signs of ageing
Irregular Skin texture
Scars from acne and injuries, including ice pick, boxcar, rolling, and keloid scars
Fine lines and wrinkles, including frown lines, crows feet, smile lines, and forehead lines
Stretch marks and cellulite
Dark marks, discolouration, and undereye bags
Large pores
Morpheus8 offers more robust skin tightening as it also provides added skin-thickening benefits via RF energy.
Who is a Good Fit for Morpheus8 Treatment?
Everyone, regardless of skin tone or type, may benefit from treatments. It works wonders on reducing the appearance of fine lines and wrinkles, tightening somewhat lax skin, and enhancing overall skin texture.
Clearer, brighter, more uniformly toned skin is expected for those with UV damage.
People with olive or dark skin tones who are concerned about hypo- or hyperpigmentation from previous skin rejuvenation procedures may safely use Morpheus8.
HOW TO PREPARE FOR A MORPHEUS8 RADIOFREQUENCY MICRONEEDLING TREATMENT?

General guidelines:
Avoid Sun Exposure in the weeks leading up to your treatment.
Do not use tanning beds in the weeks leading up to your treatment.
Follow a regular skincare routine to keep your skin healthy. This includes cleansing, toning, and moisturizing.
Avoid some medications and supplements as they can increase the risk of bruising. These include aspirin, ibuprofen, vitamin E, and fish oil.
Drink plenty of water in the days leading up to your treatment. Hydrated skin can respond better to the treatment.
On the day of your treatment, come with clean skin. Do not apply makeup, creams, perfumes, powders, or lotions.
Wear comfortable, loose clothing on the day of your treatment. Try to find a top that is easy to remove without touching your face.
Remember, these are general guidelines and may not apply to everyone. Always consult with your healthcare provider before stopping any medication.
Post-Treatment Care for Morpheus8
Aftercare Instructions may include:>
Staying out of sunlight for at least 24 hours.
Wearing SPF 30 or higher sunscreen.
Keeping the area well-moisturized.
Avoiding fragrances (even natural ones) as they may irritate the skin.
Do not pick at or scratch the area.
What To expect
Side Effects of Morpheus8
Some patients may have light bleeding from the needles used in these procedures. Minor itching, stiffness, peeling, discoloration, bruising, and scabbing are also possible.
An infection may occur under very unusual circumstances. To prevent this problem, adequate skin care is essential. In order to take care of your skin, you should do what the clinic advises you to do after treatment.
Come On In
Treat Yourself to Soft & Smooth Skin
Frequently Asked Questions
Does Morpheus8 Treatment Hurt?
Treatment with Morpheus8 is rather painless. Lidocaine cream, according to many patients, significantly reduces pain during the procedure.
Is morpheus8 safe for all skin types (skin phototypes)?
Yes, Morpheus8 is safe for all skin types and tones. There is no danger of post-treatment hyperpigmentation with this method, unlike with other resurfacing procedures.
What makes morpheus8 a great non-surgical mommy makeover treatment?
Since slack and sagging skin is so frequent after pregnancy, Morpheus8 is an excellent non-surgical option for a "mommy makeover." Most patients report considerable improvement after the first session of this noninvasive therapy.
Who is a good candidate for a morpheus8 treatment?
Morpheus8 will work for all skin types and can benefit individuals seeking to enhance skin integrity, diminish wrinkles, and tighten loose or sagging skin. Consultation with a healthcare physician or other qualified expert is always advised prior to beginning any new therapy.
How long do I need to wait following childbirth to begin morpheus8 and do I need to be done breastfeeding?
Women should wait at least 6 months after giving birth before beginning therapy with Morpheus8. The time off after giving birth is necessary so that the body can heal. Morpheus8 should be avoided while nursing because of a contraindication for their use during this time.
What is the recovery time from Morpheus8 Radiofrequency Microneedling?
The recuperation period after Morpheus8 Radiofrequency Microneedling may vary from patient to patient and from treatment to treatment. It is best to talk to a doctor or other expert in the subject to get the most up-to-date information.
Where can Morpheus8 be used on the body?
Morpheus8 may be applied to any location in need of collagen renewal or repair, making it a very adaptable therapy. The lower face and neck are the most popular treatment locations, demonstrating the versatility of the procedure.
When can I put make-up on after the procedure?
Makeup may be used 1-2 days after a Morpheus8 treatment if there is no active oozing or heated redness. Post-procedure care is essential for the best outcomes.
Are there potential risks to a Morpheus8 procedure?
Morpheus8 has risks like any skin treatment or surgery. Mild skin redness and edema are the most prevalent adverse effects. Morpheus8 reduces post-inflammatory hyperpigmentation compared to other therapies.
How long does Morpheus8 last?
Results from Morpheus8 can last for different amounts of time, but most people can expect their results to last between 1 and 3 years. This time frame can be lengthened with good skincare and maybe more treatments.
I Have Acne. Is the Morpheus8 a Good Treatment?
Morpheus8 is known for its ability to improve the structure of the face and reduce scars, which can help people with acne. As always, people with acne-prone skin should talk to a dermatologist to find out if this treatment is right for them.
How Many Sessions Are Recommended?
Individual skin problems and intended objectives might affect the suggested number of Morpheus8 sessions. Consultation with a medical specialist or trained esthetician is advised for the most precise advice.
How Quickly Will I See Results? How Long Do They Last?
Morpheus8 effects are usually seen three to four weeks following therapy. This therapy improves for up to three months thereafter, showing its progression.
Can Morpheus8 Be Used In Combination With Other Treatments?
Morpheus8 may be used with other treatments and therapies. It may be used in the same treatment session or a few days after other treatments for a complete skincare regimen. Morpheus8 may improve outcomes when used with FaceTite and AccuTite.
What Kind of Skin Care is Required After the Morpheus8 Treatment?
Post-treatment skin care is crucial to the healing process and the effectiveness of Morpheus8. Until the skin heals, use a mild moisturizer or healing ointment. Post-treatment makeup may be applied. To promote healing, avoid skin irritants for a few days and use regular soaps (not scrape soaps or exfoliates) 24 hours after treatment.